Forest of Dean Autumn Half Marathon
Sunday's Forest of Dean Autumn Half Marathon saw a very good turnout from Forest of Dean Athletic Club with 31 of their runners taking part.
The overall race was won by Richard Purkis of North Gloucestershire Orienteeering Club in 1:17:57 while the first Male Forester home was FODAC runner Marcus Bennetto who took 4th place overall with 1:24:17 closely followed by two other FODAC runners, John Hamilton in 5th with 1:24:42 and Andy Raynor 11th in 1:27:33.
Dave Lowthian and Andy Horlick both put in very good performances finishing 3rd MV50 in 1:29:32 and 5th MV40 in 1:30:54 respectively
First woman home was Tara Grosvenor in 1:29:27 while, the first FODAC woman back was Martha Hamilton in 1:48:01 followed by Stefanie Francis in 1:59:39 and Emma Parsons in 2:03:33. Among the other FODAC women, Nicola Hall deserves particular mention finishing 1st in the FV 60+ class with 2:05:33.
Other FODAC placings are as below:
Mark Blake 1:38:23, Ian Morgan 1:43:45, Patrick Rennison 1:45:15, Chris Munton 1:47:12, Wayne Stewart 1:47:14, Steven Richards 1:49:21, Brian Francis 1:49:51, Rickey Hughes 1:54:12, Andrew Knott 1:54:35, Richard Broad 1:58:15, Anna Freeman 2:03:34, Valerie Hamilton 2:04:11, Julie Evans 2:08:21, Andy Breeze 2:09:10, Amanda Knott 2:18:25, David Price 2:20:52, Eva Goodhead 2:21:04, Miriam Paris 2:25:01, Liselette Adams 2:28:22, Martin Adams 2:28:23, Caroline Rickards 2:32:47 and Wendy Lawrence 2:45:19.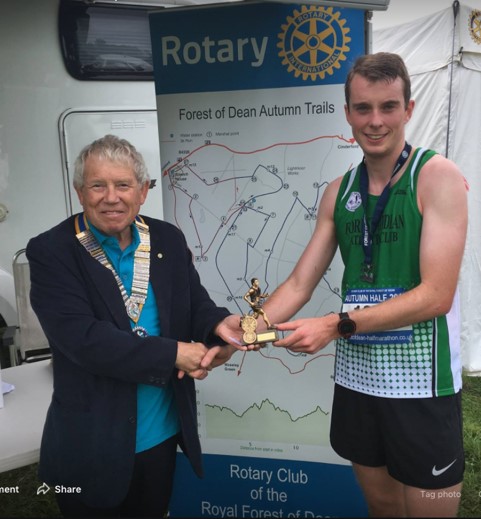 Swansea Bay 10K Race
While most FODAC runners took part in the Forest Half Marathon a further 15 travelled to Swansea for the annual Swansea Bay 10k race. Of those I would just like to give a quick mention to two of them, namely: Cory Sherwin and Jack Fleet who finished 4th and 5th out of the 86 runners in the Junior male class with times of 38:49 and 38:56 respectively.