Fixture dates and Venues
Gwent League:
12 October 2019 – Llandaff Fields, Cardiff
9th November 2019 – Pembrey Country Park
7 December 2019 – Blaise Castle, Bristol
8th February 2020 – Chepstow Race Course
1st March 2020 – Singleton Park, Swansea
Glos League:
Sunday 13/10/19 Gloucestershire CC League Wotton under Edge
Saturday 14/12/19 Gloucestershire CC League Old Down Country Park
Saturday 04/01/20 Gloucestershire CC Championships Rendcombe College
Saturday 02/11/19 Gloucestershire CC League Charlton park
Sunday 16/02/20 Gloucestershire CC League Cheltenham
Fixtures and dates 2018-2019
GWENT League:
Saturday 13 October 2018 Llandaff Fields, Cardiff subject to a formal agreement.
Saturday 10 November 2018 – Pembrey Park
Sunday 2 December 2018 – Bryn Bach Park
Saturday 9 February or Sunday 10 February 2019 – TBA
Saturday 2 March 2019 Blaise Castle, Bristol
GLOUCESTER league:
Saturday October 13th 2018 Old Down Country Park Stroud AC
Saturday November 3rd 2018 Charlton Park Chippenham H
Sunday December 9th 2018 Wotton Parc Wotton under Edge Dursley RC
Sunday February 17th 2019 Pittville Park Cheltenham H
Fixtures 2017/18 season:
Club XC table: XC champs 2017-18. Well done to: Men: 1st Scott Berry, 2nd Alan Robertson, 3rd Julian Boon. Women: 1st Lynne Park, 2nd Gemma Hewitt, 3rd Donna Sheen.
Gwent League: Fixture Dates and Venues:
Sat 14 October 2017 – Llandaff Fields, Cardiff. In conjunction with the Cardiff Cross Challenge
Sat 11 November 2017 – Penlan Leisure Centre, Brecon.
Sun 3 December 2017 – Pembrey Park, nr Llanelli.
Sat / Sun 10/11 February 2018 – Pontypool Park, Pontypool.
Sat 3 March 2018 – Blaise Castle, Bristol
Gloucestershire Cross Country League:
Sat Oct 14 2017 Gloucester -Blackridge
Sat Nov 4 2017 Charlton Park, Malmesbury
Sun Dec 10th 2017 Katherine Lady Berkeley Sports Centre, Wotton-under-edge
Feb 17 2018 Cheltenham (TBC)
Gloucestershire AAA CC Championships is the recommended date of 6 Jan 2018 at Old Down Country Park.
Fixtures 2016/17 season:
Gloucestershire Cross Country League:
| | | |
| --- | --- | --- |
| Date | Host club | venue |
| Oct 15 2016 | Bourton RR | Little Rissington |
| Nov 5th 2016 | Gloucester AC | Black bridge |
| Dec 17 2016 | Dursley RC | Katherine Lady Berkeley School, Wotton Under Edge |
| Feb 18 2017 | Cheltenham &Co Harriers | Pittville Park |
| Jan 07 2017 | Gloucestershire AAA | Glos AAA County CC Champs at Old Down Park, BS32 4PG |
Gwent League: Fixture Dates and Venues:
1) Sunday 16 October 2016 – Newbridge Fields, Bridgend.
2) Saturday 12 November 2016 – Brecon Leisure Centre, Penlan.
3) Saturday 3 December 2016 – Blaise Castle, Bristol.
4) Sunday 12 February 2017 – GLEBELANDS, Newport.
5) Saturday 4 March 2017 PEMBREY PARK, nr Llanelli.
Fixtures 2015/16:
Gloucester XC league 2015/6.

Oct 10
Cotswold Farm Park
Ladies Race 14:05; Men's Race 14:45
Oct 31
Malvern Joggers at Malvern Common
Ladies 13:55; Men 14:40
Dec 12
Blackbridge, Gloucester
Feb 20
Warwick University
Jan 09 2016
Glos AAA County CC Champs at Coleford, Forest of Dean & promoted by FODAC
Entry form for whole series at discounted price here
Gwent League
Fixture Dates and Venues:
Sunday 11 October 2015 – Newbridge Fields, Bridgend
Ladies 13:20, Men 15:00
Sunday 8 November 2015 – Llandaff Fields, Cardiff
Saturday 5 December 2015 – Blaise Castle, Bristol
Saturday 13 February 2016 – Monmouth Showground
Saturday 5 March 2016 – Brecon Leisure Centre, Penlan(TBC)
2014/5 season
Well the XC season is over & what a successful season it's been Brilliant turnouts & support.
In the Glos League the Ladies managed to field at least 3 teams in every race finishing 7th, 15th & 16th overall. Last year only one team completed all 4 races finishing in 14th so massive improvement. They also came away with 3 medals too: Bronze for the Masters & Gold for Jacqui Wynds (LV60) & Silver for Sheryl Hall (LV45)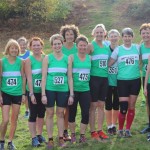 The men only managed to field 2 full teams at 3 of 4 meets but the A team finished 8th (up from 12th last season) with the Masters finishing 5th. Our most successful athlete was Chris Penny who won Bronze in the fiercely competitive MV40 category.
In the Gwent League both the Ladies & Men were in with a realistic chance of promotion, but the final meet in Dare Valley Country Park, Aberdare on March 1st was cancelled meaning the Ladies missed out.
Sherryl Hall was selected to represent the county at the regional champs & then in the County short course XC she won Gold. Chris Moore & Alan Robertson also picked up Gold & Silver respectively in the MV60 category.
Glos County Championships: A great success with medals for a number of FoDAC athletes + great feedback on our course, marshals & refreshments
Feb 14th Tewkesbury School. The longest course of the season & leg sapping clay brought slower times from all 22 Seniors apart from Sheryl Hall who justified her County selection with a fantastic 17th place finish & matched her Pittville age grading.
Feb 8th Blaise Castle, Bristol. Yet again a fantastic turnout & strong performances from both A teams (in spite of half the men giving the field a 200m headstart!) left the men in 2nd nearly 1000pts clear of 3rd place. The Ladies moved up to 3rd within striking distance of second (even though Ann Nixon was the only scorer in Cardiff!)
Dec 13th Pittville Park, Cheltenham. Another cracking turnout with 10 Ladies & 10 Men. First home for the ladies was Sheryl Hall in 44th & first of the men was Chris Penny in 57th. The Ladies had both XC regulars & newcomers: Valerie Hamilton, Stefanie Francis, Lynne Park, Jackie Green, Claire Morgan, Claire King, Rachel Nash (1st XC & 2nd race of 3 in a day!), Liz Usedon & Jo Babij. The Men also had a mix of experience in Hubert Ashley-Towell, Scott Berry, Ian Morgan, Roy King, Walter Leach, Alan Robertson, Rob Freeman, David Jenkins & JB.
Dec 6th Penlan Leisure Centre, Brecon hosted the 3rd race in the Gwent League. Both Senior Men & Ladies fielded strong teams with the Ladies: Ann Nixon, Sue Shergold, Lynne Park, Stef Francis, Jackie Green, Claire Morgan & XC first-timer Leona Price coming 2nd in their division & the Men : Marcus Bennetto, Dave Lowthian, Dan Sandford, JB, Mark Mathews, Chris Moore, Alan Robertson & XC stalwart Roy King coming 3rd. Standout performance from Ann Nixon (17th) to put her into 6th overall.
The men remain in 2nd place extending their lead over 3rd placed PBB by 101 points.
Another cracking turnout & set of performances at Malvern on Nov 1st saw 4 ladies' teams & 2 men's. Both A teams were 8th overall with the Master's A teams coming 2nd. The men were only 5 points from winning the Masters despite some notable absences. The men managed a full team at Cardiff on the 8th too to move into 2nd place in division 4 so on track for promotion. Well done to stalwarts Marcus, James, Dave, Scott, JB & Alan. Need a good turnout for Brecon now.
Many thanks to all the athletes who made the Octoberfest XC w/e a record turnout and especially the 10 who ran both days: Ann Nixon, Stef Francis, Lynne Park, Jackie Green, Marcus Bennetto, James Dobbing, Mark Mathews, Scott Berry, Roy King & Jules Boon.