It has been a busy week for the Forest of Dean Athletic Club with a Marathon, a Half Marathon and the Autumn Mile races.
New Forest Marathon
Cherry Fowler and Sue Shergold put in very strong performances at the New Forest Marathon on Sunday the 10th September. This is a mixed terrain marathon and so typically slower than those run on roads alone . Despite that Cherry Fowler was 1st out of 81 runners in the F40 class with a very fast time of 3:30:25 while Sue Shergold was 4th out of 40 in the F50 class with a time of 3:49:16.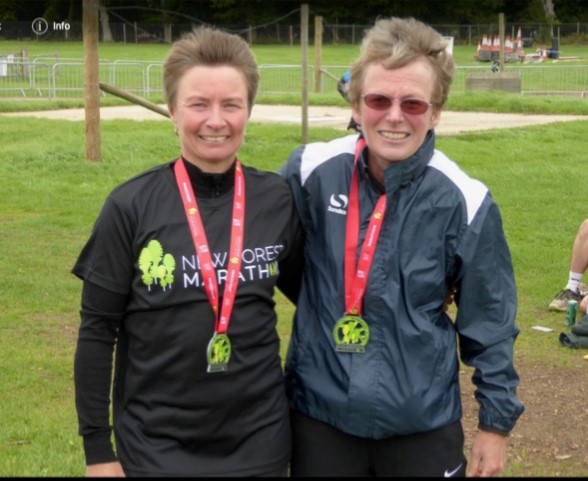 Great North Run
Meanwhile five FODAC runners followed Sir Mo Farah in the Great North Run between Newcastle and South Sheilds on Saturday 10th September.
Richard Peglar finished in 1:35:03 with Simon Roberts just one second behind in 1:35:04. Vanessa Peglar achieved a half marathon PB (personal best) with a time of 1:56:35 while Karen Barnett finished in 2:00:31 and Lisa Adams in 2:11:00
Autumn Mile
The Autumn Mile saw 72 runners from five different clubs competing on the evening of Tuesday 12th September at Five Acres track with strong winds and driving rain making for dramatic and challenging conditions.
Pete Woodward was the fastest runner of the day and the only runner under five minutes with a time of 4:58 with Marcus Bennetto 2nd in 5:07 and Martyn Winser of Chepstow Harriers 3rd in 5:09
Of the first three women, two, Chloe Wheeler and Samantha Harris managed to squeeze in under six minutes with times of 5:57 and 5:58 respectively while Chepstow Harriers runner Nicki Morgan finished in 6:18. In a fortuitous turn of events this also saw Chloe Wheeler finish as 1st Senior Woman with Samantha Harris 1st in the F40 class and Nicki Morgan 1st in the F50 class. In Nicki's case this meant not only winning her own age group but finishing ahead of a further 12 women in younger age groups as well.
The First three finishers in each age group are given below:
Senior Men: Pete Woodward 4:58, Marcus Bennetto 5:07 and Martyn Winser 5:09
Senior Women: Chloe Wheeler 5:57, Danielle Sapsford 6:31 and Emma King 6:56
M40: Peter Ward 5:18, Austin Blackburn 5:40 and Dan Sandford 5:43
F40: Samantha Harris 5:58, Lisa Jeffrey 6:26 and Debbie Stenner 6:39
M50: Paul Dodd 5:42, Walter Leach 5:50 and Richard Dennant 6:19
F50: Nicki Morgan 6:18, Rachael Wheeler 6:55 and Angela Sonn 9:38
M60: Steve Owen 6:20, Neil Grant 6:30 and Alan Robertson 6:49
F60: Joyce (Joc) Dodd 8:14 and Sue Ashton 8:49 (two runners in class)
M70: Geoffrey Baylis 8:24, Geoffrey Cram 9:02 and Syd Wheeler 9:55