Forest of Dean AC presents:
THE COPPETT HILL FELL RACE
Sunday 23rd July 2023 . Start 2pm. Registration from 1pm.
Race HQ: Goodrich Village Hall, Goodrich, Ross-on-Wye, Herefordshire, HR9 6HX.
£6 entry. (£5 for WFRA members)
NEW ROUTE FOR 2023!
Chip timed. Race limit: 120. Please car share.
Records (pre 2023 route)
Male: Sam Jones 38:09 2018
Female: Rhian Jinny-Jones 43:33 2018
Prizes for 1st/2nd/3rd M & F and categories M & F 1st 40/50/60/70
Registration /Toilets/ bag drop at The Hostelrie Pub. Parking at school or Castle car park.
See the FB event page for info and pics of previous years race:
Coppett Hill is a nature reserve. It is a mix of woodland and open hillside and a good site for butterflies, deer, birdlife, fungi and running! It is owned by Trustees who live in the parish and conservation work is supported by the Friends of Coppett Hill. There will be a donation to the trust from the race proceeds. The permissive paths give access to the reserve as well as offering views stretching from the Brecon Beacons and Black Mountains to the Clee Hills in Shropshire and the Malvern Hills in Worcestershire. The reserve is within the Wye Valley Area of Outstanding Natural Beauty.
New 2023 Route: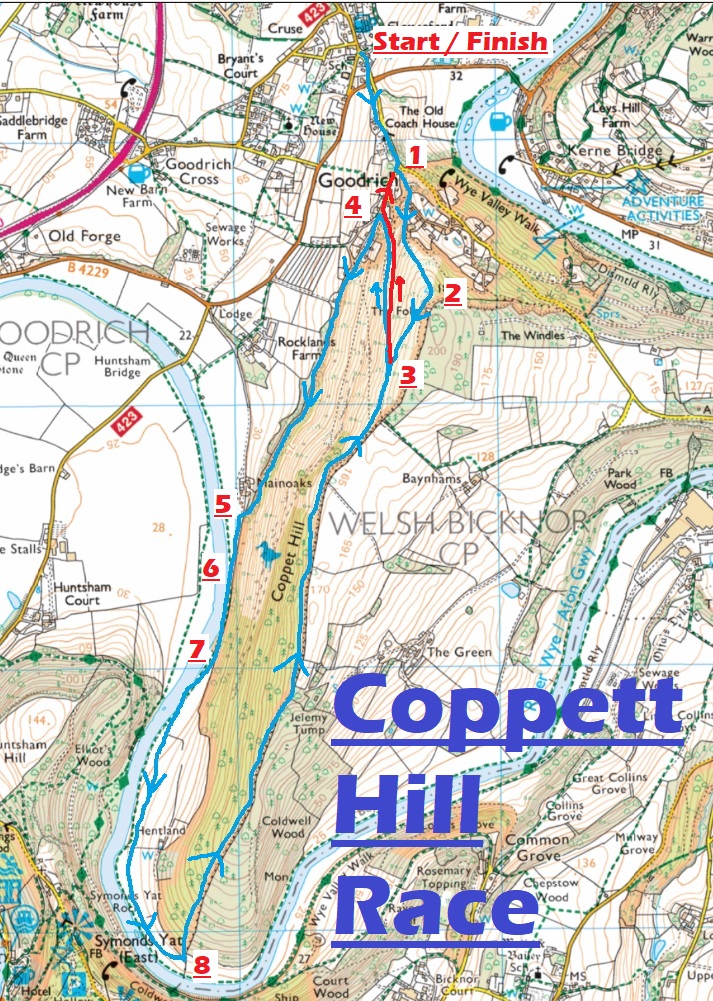 By agreement of the Friends of Coppett Hill Trust and of the Courtfield Estate, we have devised a fell race route up and over the hill. It may be the little brother of the Brecon Beacons Hills further to the west, but it still packs in all you need from a fell race. Starting in Goodrich, the route steeply climbs out of the village, up the steps to the trig point. A quick traverse across open hillside to a sharp right, down a fast, grassy descent. Quick left at the bottom, then a change to the old route – You keep going traversing the hill, through woodland (mind your head), over a stile then onto a grassy riverbank path, taking under the limestone cliffs of Symonds Yat. After a mile or so, take the left and go up the long drag back up the hill. Back on top, traverse the top ridge, until a the path forks of left and back down the first descent, but turn right at the end to head back down to Goodrich and finishing at the village hall.
The course will be marked and marshaled. Please stay to the route, rather than taking any 'fell runner' shortcuts! The race is run under WFRA rules – CATEGORY BS / PM. Due to the time of year and accessibility of course, kit will not be required. Over 16. All competitors run at their own risk!
Race organiser: Dan Sandford. 07775 508753. howlingbullrun@gmail.com
Many thanks to our sponsors and supporters:
The Hostelrie Inn. http://www.thehostelrieatgoodrich.co.uk/
Friends of Coppett Hill Trust https://www.coppett-hill.org.uk/friends-of-coppett-hill/
The Courtfield Estate.
Old pre-2023 route below: