Forest of Dean Athletic Club has had a busy week. Monday evening saw 29 runners take part in the Frampton 10k and on Thursday 43 runners took part in the Tintern Trot. 15 people took part in both of the races.
Frampton 10K
The two races could not have been more different. The Frampton 10k is a gently undulating road race and the Tintern Trot is a 5.7 miles trail race which climbs 985 feet.
The Frampton 10k starts in the picturesque village of Frampton-On-Severn. Many of the FODAC runners have run this race before and there were a number of personal bests achieved. The most notable being Andrew Knott, who took an incredible 14 minutes off his time from last year, finishing in 50.13 minutes.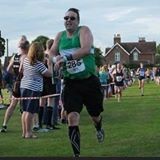 Two people won prizes at this event, Victoria Baker was the first Forest female home in a time of 40.33 minutes, taking third place in the ladies overall results. Michael Strange took 41.18 minutes and was the first male over 60 home. The first FODAC male home was Jack Fleet in a time of 38.31 minutes.
Tintern Trot
The Tintern Trot was hosted by local club the Chepstow Harriers. It is a challenging race and is always a firm favourite amongst FODAC. This year, there were a number of the clubs newer members in the field. They didn't quite know what they had let themselves in for, but they seemed to enjoy it. The race starts and finishes at the Abbey Mill in Tintern. The course goes across the railway old bridge, along the river and then up to the Offa's Dyke footpath, coming back via the HAPPA horse sanctuary.
There were some great performances, which resulted in a clean sweep on the team prizes. The male team was made up of Marcus Bennetto, who came 4th overall in a time of 39.38, Dan Sandford 42.16, Jack Fleet 43.11 and Leyton Fleet 43.16. The ladies team was made up of Chloe Wheeler who was 4th female overall in a time of 48 minutes, Cherry Fowler 48.54 and Debbie Stenner 51.47.
There were also individual age category prizes for Cherry Fowler (FV45), Leyton Fleet (MV45) and Sherryl Hall (FV50) in a time of 58.22 minutes.
The race was celebrating its 20th year and so the team prizes were lovely cakes with a welsh dragon on.