Gloucester AAA cross-country
As 2016 comes to an end, it is still busy a busy time for Forest of Dean AC runners. The first event of the weekend was Gloucester AAA cross-country, held at Wotton under Edge. Described as a good course with some energy-sapping mud, lumpy grass, gentle inclines and a ditch, the men completed 4 laps and the ladies 3. The first FODAC finisher in the men's race was John Hamilton, 24th and 5th MU20, followed closely by Alex Lindfield in 27th. Ian Smith was 56th, Julian Boon 85th, Mick Strange 104th and 3rd MV60, and Peter Woodward 107th. These made up the men's team who were placed 7th. In the ladies race, Catherine Roberts was 33rd and Sherryl Hall 51st.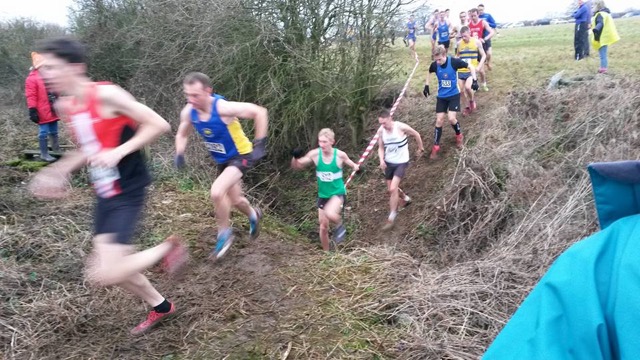 Christmas Tree Race
The main event for the club was the hosting of the annual Christmas Tree Race, starting and ending at Ellwood football club. . The race covers 5.5 miles with 600 feet of climbing through the woods between Ellwood, Bream and Parkend. In previous years the weather has included rain, ice & snow and sun, so this year's fog was something different to add to the list. There was a record entry with 200 seniors and canix, and about 30 juniors tackling 3 different races. Numbers were boosted by Chepstow Harriers, who included this as part of their annual championship.
Kim Mazzuca with Halo was first cani to finish in 34.05, followed by Neil Smith and Floyd 37.15 and Helen Brown and Dennis 38.05.
The first runner to finish was Paul Murrin of Chepstow Harriers in 35.26, followed by John Hamilton FODAC 35.33 and Nickolas Brown of Lincoln Wellington AC 36.52. FODAC packed the results by taking every place between 5 & 10. First lady was Niki Morgan in 43.32, then Lisa Jeffrey 43.44 and Rebecca Comins 46.28, all representing Chepstow Harriers. Catherine Roberts was 4th lady 46.48 then Helen Lipscomb 5th in 48.45, both FODAC.
Category winners: Senior Ladies Rachael Cratchley; LV35 Helen Lipscomb; LV40 Helen Williams; LV45 Catherine Roberts; LV50 Sherryl Hall; LV55 Caroline Kimberley; LV60 Joyce Dodd; LV65 Brenda Avery; Senior man Sam Jones; MV35 Richard Ray; MV40 Dan Sandford; MV45 Leyton Fleet; MV50 Dave Lowthian; MV55 Paul Dodd; MV60 Mick Strange; MV65 Neil Grant and MV70 Geoff Bayliss.
A special award was made to Chepstow Harrier's Syd Wheeler, who says he is retiring from trail running at the age of 80. Best fancy dress prizes were given to Cath Nicoll and Glen Meek. All finishers received a Christmas tree-shaped medal, a hot drink and cake.