The first race in the 2016-17 Gwent Cross-Country League was held at Newbridge Fields, Bridgend.  Forest of Dean AC's mens team were 2nd in Division 3, whilst the ladies were 6th, also in Division 3.  Star performance was again by Ann Nixon who finished 24th of 311 and 1st FV55.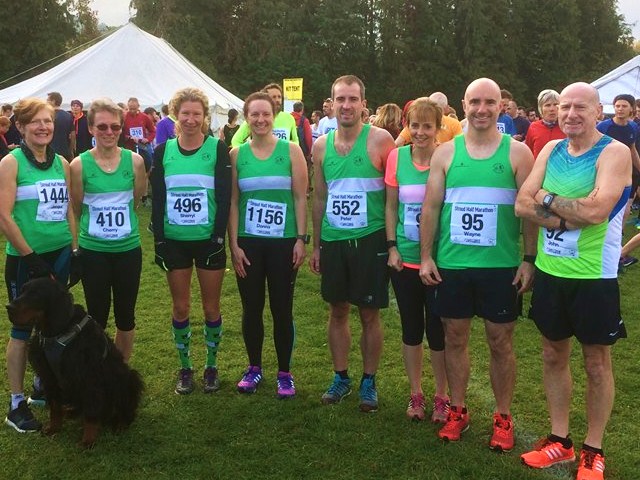 The Club hosted the annual Yorkley Gallop with part of the proceeds going to Great Oaks Hospice.  This year saw the introduction of a hillier, more single track route and an increase in the number of races available.  In addition to the 6-mile race for runners and canis, there were also a 3.3-mile version for both and a junior run.
The 6 mile race was won by Daniel Lewis of MMRTin 39.09, followed by Lee Simms (Hereford Ghost Runners) 39.40 and Marcus Bennetto (FODAC) 41.47.  First lady was Claire Bunce in 48.14, then Sarah Kellett ( Black Pear Joggers) 48.57 and Laura Lelievre 49.13.  The Club presents trophies to the first man and women finisher for the club.  The Yorkley Dash Cup was retained by Marcus Bennetto and the Carol Jones Trophy went to Catherine Roberts.  Age category prize winners were: Hubert Ashley-Towell (FODAC) MV40; Ian Summers (Gloucester AC) MV50;
Chris
Moore
(FODAC) MV60; Catherine Williams FV40; Stef Francis (FODAC) FV50.  The Cannicross race was won by Kim Mazzucca from FODCC in 36.12.  First male was Ian Littlewood (East Cornwall Harriers) 42.01.  The 3.3 mile race saw a tie between Briony Bishop and Natalie Ashley-Towell in 29.35.  Philip James (FODAC) was first male in 31.34. Neil Smith of Wilshire CC won the shorter canix race in 22.11 with Claire Clark (FODCC) first lady 26.41.
9 FODAC runners ran the Stroud Half Marathon.  Dave Lowthian was first of these to finish: 44th in 1.25.02.  First lady was Cherry Fowler in 1.39.13.  Other times: Wayne Bevan 1.32.35; Sherryl Hall 1.42.57; Jacqui Wynds 1.50.35; Anna Bevan 1.52.57; Donna Sheen 2.01.58; Peter Hewitt 2.01.57 and John Bevan 2.04.29.
Another 11 migrated south, at least as far as Portsmouth, to take part in the Great South 10 mile Run.  First of these was Richard Pegler in 1.04.02 and first lady was Rachel Nash in 1.21.47.  Other times: Leyton Fleet 1.06.40; Greg Nash 1.09.51; Claire Morgan 1.28.42; Vanessa Pegler 1.31.20; Ian James 1.31.21; Jo Babij 1.39.51; Sharla Fleet 1.40.31 and Bev James 1.44.49.