Darrens Dash
The main event for the weekend was Darren's Dash: a 6 mile fell race with 1750ft climbing on the England / Wales border.  It was also a "mob match" between FODAC and Chepstow Harriers, were every runner scored points according to their finishing position.  The race itself resulted in an unusual occurrence with FODAC runners finishing first man & first women. Dan Sandford was 1st overall in 46.09 and Ann Nixon 8th and 1st lady, in a new course record of 50.06.  2nd FODAC man was Andy Horlick 54.40 and Chris Moore 55.46 was 3rd.  2nd lady, and first FV40, was Sherryl Hall 57.50 and Helen Lipscomb 59.03 was 3rd.  Other results: Patrick Rennison 56.31; Michael Marks 56.43; Brian Francis 60.24; Alan Robertson 60.36; David Jenkins 64.50; Tony Pownall 65.06; Jo Edwards 65.20; Chris Hawkins 65.54; Margaret Powles 66.18; Stef Francis 67.38; Gemma Hewitt 67.58; Peter Covington-Jones 70.33; Salli-Anne Millward-Bryant 73.51; Donna Sheen 73.55; Peter Hewitt 73.56; Jo Babij 79.19 and Caroline Rickards 83.59.  Chepstow Harriers won the mob-match.
Maverick 17K – Write up Wendy Lawrence
Today Eva and I ran the Maverick 17k from Sudeley Castle, from where there is only one direction – up!   We ran through fields, lanes, wooded areas, on grass, tarmac, mud and stony tracks; through fields of sheep, cows and horses.  Two of the steep climbs were compensated by lovely downhill stretches; but the last long, tough uphill was followed by a descent via a narrow, very muddy track broken into steps which were a challenge for my short legs.  After that came the cows and horses, neither of which were to Eva's liking.  The 17k turned out to be almost 17.5k and the promised 3 drinks stations turned into 1 –  at the finish we realised why so many runners were carrying water and goodies.  On the plus side, the views were really lovely, the weather was kind as the sun did not come out, and we are quite pleased to have survived this tough run. — with Eva Goodhead.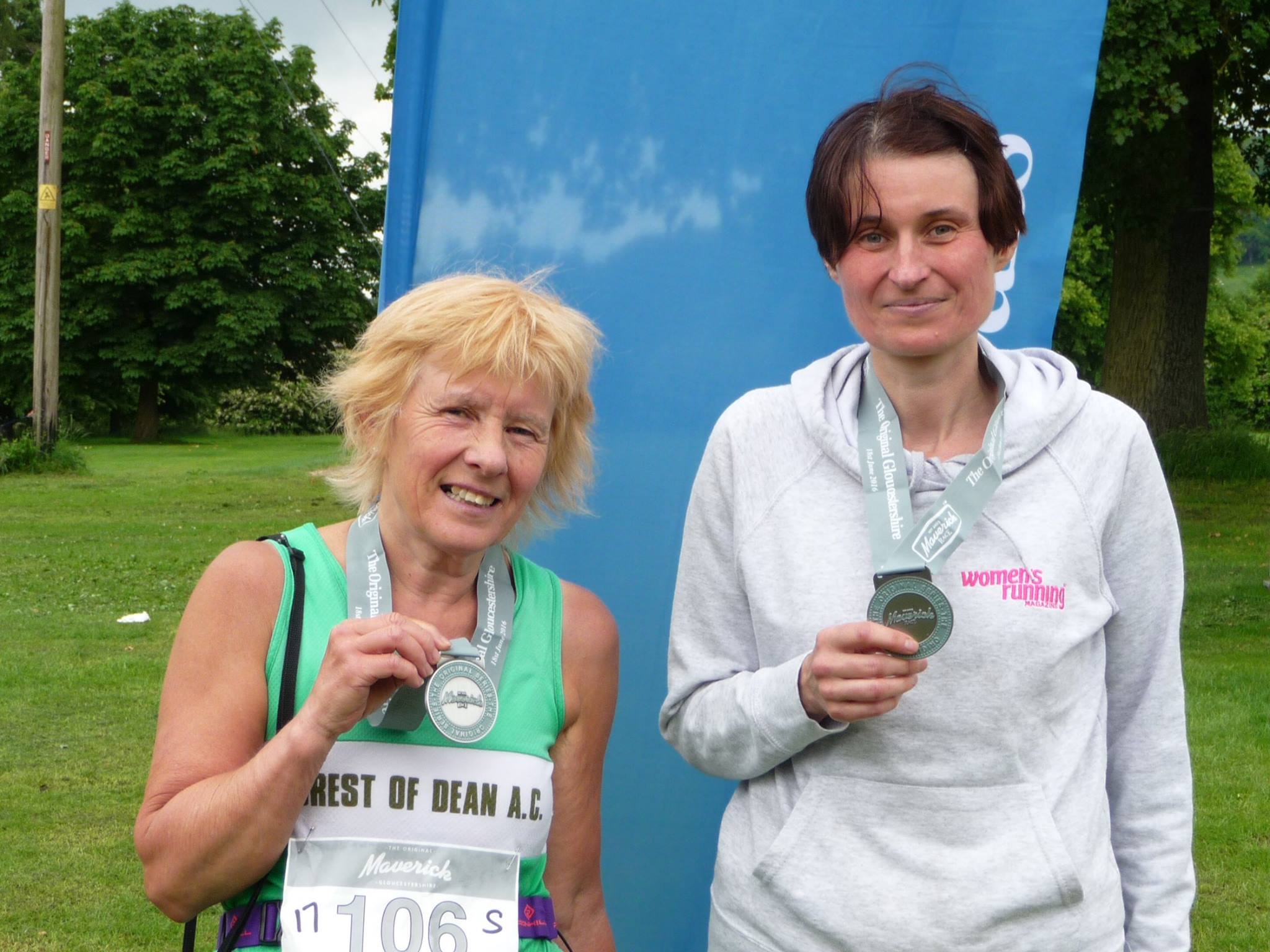 Shrewbury Half Marathon
Shrewsbury was the destination for the Morgans this weekend for this Half Marathon.
The course begins and ends at the Shropshire County Show ground. You run along the river in the beautiful Quarry, home of the Shrewsbury Flower show, then through the historic town centre before heading out over the English bridge to do run a loop in the Kingsland estate.
After you 'conquer the Wyle Cop' you then head out to run the second half of the race in the Shropshire countryside before finishing back in the showground.
Claire finished in 2:06:41 with Roger in 2:06:40…no doubt side by side.