This was a weekend of fell racing in the Brecon Beacons. This involves two races: runners can do either or do a double for an additional prize. On the 11th runners took on Pen Y Fan the shorter race of 3.5 miles with an ascent of 1930ft. FODAC runners Julian Boon and David Jenkins both took part.  Jools finished in 49:03 and David in 57:01.
On the 12th more FODAC runners joined them to take on Fan Y Big: a longer run of 10.3 miles and an ascent of 2200ft. The weather was atrocious for the start with driving rain and wind.  In fell racing the runners have to be self-sufficient as there are no direction markers and, due to the terrain, have to be kitted out with map, compass and wet weather clothing. Luckily, as runners reached the summit the sun came out giving athletes the amazing views and a chance to dry out.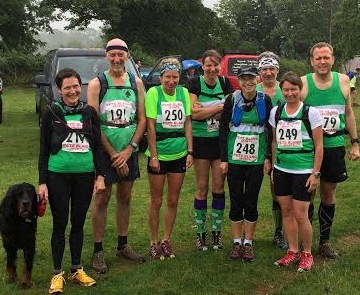 There were several successes with 1st LV60 for Jacqui Wynds, 2nd MV60 for Chris Moore and Margaret Powles 2nd LV50.  Finishing times: Dan Sandford 1:25:41; Julian Boon  1:34:04; Sue Shergold 1:50:26; Chris Moore 1:52:11;  Sherryl Hall 1:55:35; Alan Robertson 2:02:49; Stef Francis 2:04:46; David Jenkins 2:08:02; Jacqui Wynds 2:08:11 and Margaret Powles 2:10:45.