After a weekend of slow hill climbs, Tuesday and Wednesday saw rounds of two of the faster Forest of Dean AC championship races.  Round 2 of Chepstow Harriers Rose Inn series was held at Redwick, near Newport.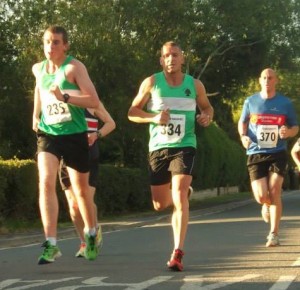 Marcus Bennetto 24.14 was first FODAC to finish, followed by Leyton Fleet 24.37.  Other times: Mark Blake 24.59; James Ellingford 25.37; Mark Channer 26.12; Rob Freeman 27.33; Patrick Rennison 29.29; David Jenkins 30.33; Ian James 31.49; Claire Morgan 32.19; Kate Burke 32.29; Darren Creed 32.55; Bev James 36.58 and Leona Price 37.05.
Wednesday was the final round of Hereford Couriers 5k series and several FODAC runners came away with series prizes.  Tori Baker was 2nd lady overall and was part of the winning ladies team along with Sherryl Hall, Sue Shergold, Rachel Nash and Jackie Green.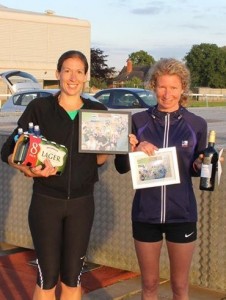 Sherryl was also first FV40, Alan Robertson first MV55 and Chris Moore first MV60.
Times on the night: Dan Sandford 18.19; Jack Fleet 18.32; Leyton Fleet 18.46; Dave Lowthian 19.05; Julian Boon 19.14; Tori Baker 19.47; Alan Robertson 20.59; Sherryl Hall 21.16; Chris Moore 21.30; Jason Ross-Collins 21.39; Max King 22.42; David Jenkins 23.39; Roy King 24.20; Graham Bennetto 25.21 and Jackie Green 25.45.