MINI MOUNTAIN MARATHON – SEPT 20TH
This weekend James Dobbing and Mark Mathews took part in the Rogue Runs mini mountain marathon. Based near Dan yr Ogof caves, the first running of this event saw a small field competing across both short and long linear: 2 days, 5 hours on each, on foot to visit as many checkpoints and gain as many points as possible.
A tough event as recorder by James
"Day 1- quietly confident after reasonable success on the FoD adventure race last year, we headed to the start, received …our 12 target points and set off steeply up hill, the first of many over both days! For the first hour our navigation was simply rubbish! Way off course and not looking at the obvious way marks! 48 minutes later we eventually found a checkpoint, already quite tired! Then having got to grip with the nav, we started making progress, until we came to the endless waist high grass, deep bog and random hidden holes that set the tone for the rest of the day. I was on my face quite a few times! A few hours later with time running short we were rushing to make it back (picking up a wrong checkpoint on the way!) eventually collapsing over the line with 38 seconds to spare in a mixture of relief, elation and sweat! 130 points (6 checkpoints) enough to finish 4th (teams above all tied on 180).
Day 2- After a night camping (very pleasant site and amazing views, definitely recommended!), we were off for day 2. Improved weather and as a team we were transformed. Effective navigation, good route finding and less severe terrain saw us collect 175 points, passing some amazing views and running some spectacular paths. Arriving back 24 minutes early and feeling a lot fresher than day 1, we waited for the results – 3rd overall, tied on points for first but pushed back by finishing 15 and 10 minutes slower than 1st and 2nd pairs respectively. We then found out we had also won the prize for first male pair!!"
WORCESTER 10K SEPT 21ST
This was the return of Paula Radcliffe to competitive running and along with our two FODAC runners they ran a loop of the city and along by the river, Paula was 3rd overall and took 1st LV40. Eva Goodchild finished in 59.19 and Wendy Lawrence in 60.27.
"Eva and I ran the new Worcester City 10k this morning. As we were stretching beside the river at 8.30am (the race started at 9am), Paul Radcliffe ran past us – twice -as she warmed up for the race. She was the third lady back, the first V40 lady. Eva and I were a long way behind – Eva finished in 59.19, I took 60.27 and was 10th V60 lady. The course was really lovely – we crossed the river 4 times, and after a loop around the city and past the cathedral, we were on the river bank, on tarmac paths, for most of the race, running past hundreds of swans, boats, a long weir, plus lots of support. The only drawback was that the roads were closed so early that we had to pay to park, but we were parked about 100metres from the start. A good race we would both do again."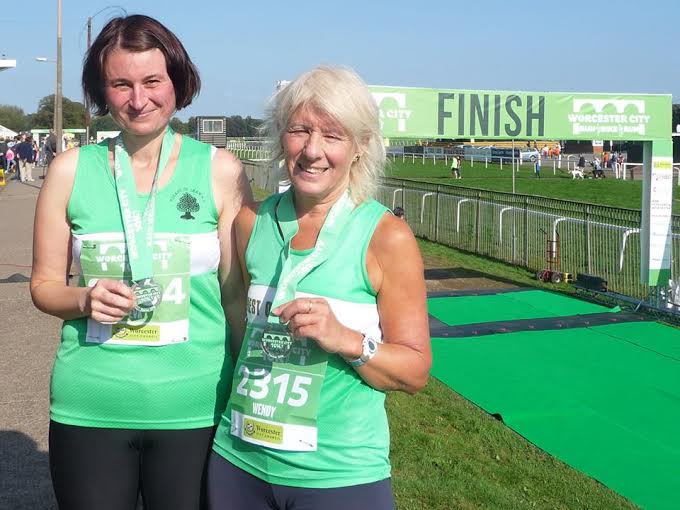 Bristol Half Marathon
Claire Morgan finished in 1:59:33.