The main event for senior Forest of Dean AC runners was the club championship race in Hereford.  The Breinton 10 is an undulating 10 mile road race, starting and finishing at Hereford Rowing Club.  6 men and 5 women from FODAC took part, with Gavin Robertson
the first of these to finish: 16th in 68:21.  He was followed closely by Daren Smith 68:33, also 1st MV45, and Scott Berry 70:15.  First lady finisher was Claire Morgan 91:03, followed by Vanessa Pegler 93:04 and Karen Barnett 93:47.  Other times: Chris Moore 75:27; Michael Marks 81:24; Alan Robertson 82:20; Angela Bowkett 94:59 and Jo Babij 101.38.
Further down river, the Ross 10k attracted 10 entrants from FODAC.  Dan Sandford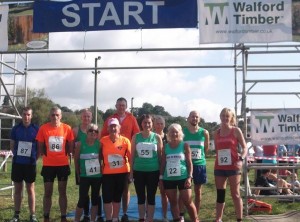 finished 3rd in 41:13, with Marcus Bennetto just behind in 42:16.  First lady finisher was Emma Davis in 51:11.  Other times:  Michael Jenkins 42:21; Ivan Woodward 50:57; Graham Bennetto 54:00; Fanny Rollinson 54:58; Eva Goodhead 61:19; Wendy Lawrence 63:54 and Sally Taylor 67:46.
Elsewhere, Jacqui Wynds took part in the Edinburgh Half Marathon and Nicky Hall completed a full marathon.  Both then reappeared in time to take part in the Autumn Mile Race.