UK Canicross Junior Championship
Forest of Dean AC member Oliver Rennison, with dog Ebony, won the UK Canicross Junior Championship (organised by the BSSF – British Sleddog Sports Federation) on 26th & 27th March 2016. The championship comprised of two 5k runs which they completed in 16:40 and 16:16. The BSSF have now named him for their team competing in the European Championships to be held in Thetford Forest this November.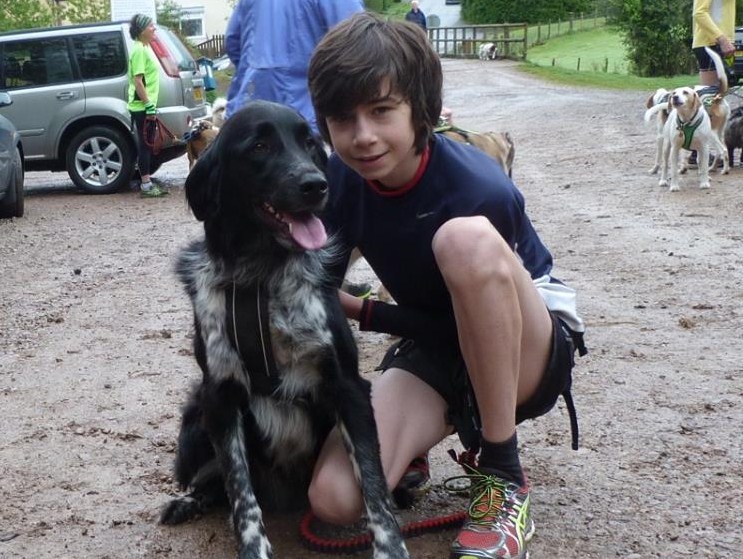 Rose Inn Series – Final Race
The final race of Chepstow Harriers Rose Inn series saw a good number of FODAC runners taking part with many recording personal bests. First FODAC finisher was Marcus Bennetto, 16th in 22:52, followed by Peter Woodward 23:25 and Richard Pegler 24:14. Melinda Ruick was first female in 28:21, with Helen Lipscomb 2nd in 28:29 and Teresa Tranter 3rd in 30:20.
The Club also collected a number of series prizes: Leyton Fleet won the MV45 category; Oliver Rennison the Junior Men and Teresa Trantor the FV60.
Other results: Julian Boon 24:32; Mick Strange 25:47; Wayne Bevan 26:36; Alan Robertson 26:59; Andrew Kaye 27:08; Oliver Rennison 27:20; Michael Bryant 27:22; Patrick Rennison 27:54; Daren Smith 28:21; Chris Moore 28:29; Rickey Hughes 30:265; Rachel Nash 31:09; Peter Short 31:12; Peter Covington Jones 31:34; Karen Barnett 32:37; Jackie Green 32:40; Gemma Hewitt 32:59 and Andrew Knott 37:48.