Race report by Dan Sandford
I have been keen to do this fell race for a few years, but for various reasons, never been able to make it. This year however, my diary was free, so I ventured across the Welsh border and headed towards Pontypool…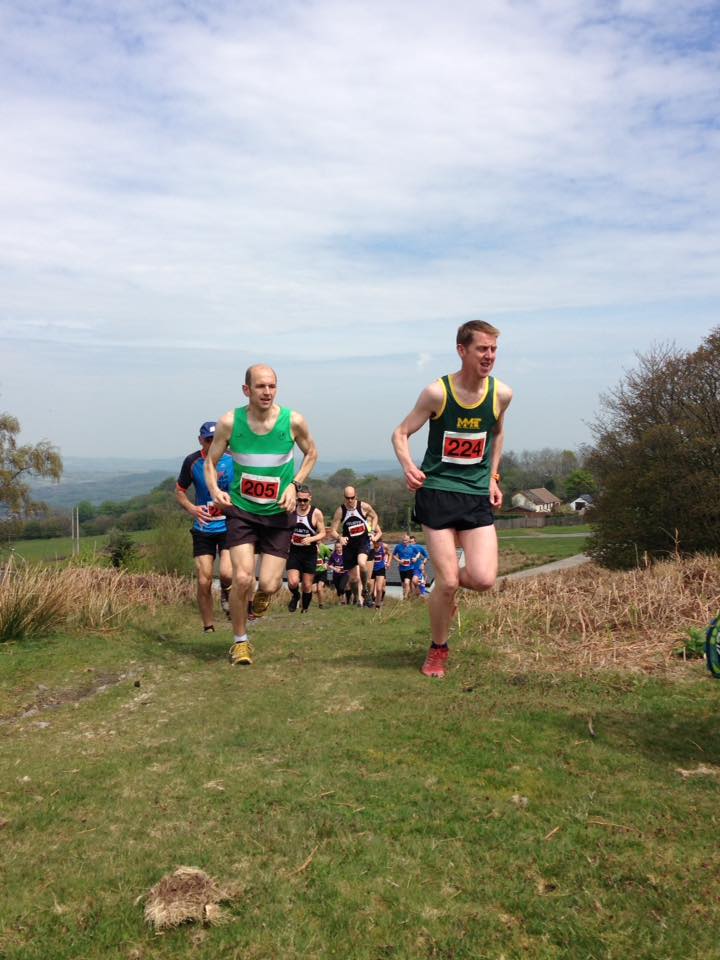 This is a fairly low key fell race, with 3 steep climbs over 7 miles. The day was hot and humid – quite a nice change to the snow and hail of the last few weeks. I even remembered to apply sun cream to my follicley challenged head beforehand. What I forgot was that sun cream and sweat really sting your eyes on a hot day.
The event website only had a very basic course map and I toyed with the idea of printing an OS map out and highlighting the course beforehand – always a good precaution for a fell race. I never actually got around to this, so was quite relived when I arrived at registration, and they said not to worry as the course is well marked, with plenty of marshals. As a warm up, I checked out the final descent to make I knew the route, as there were a few random paths through prickly looking gorse bushes. Had a quick chat to a marshal and was happy the finish section was straight forward.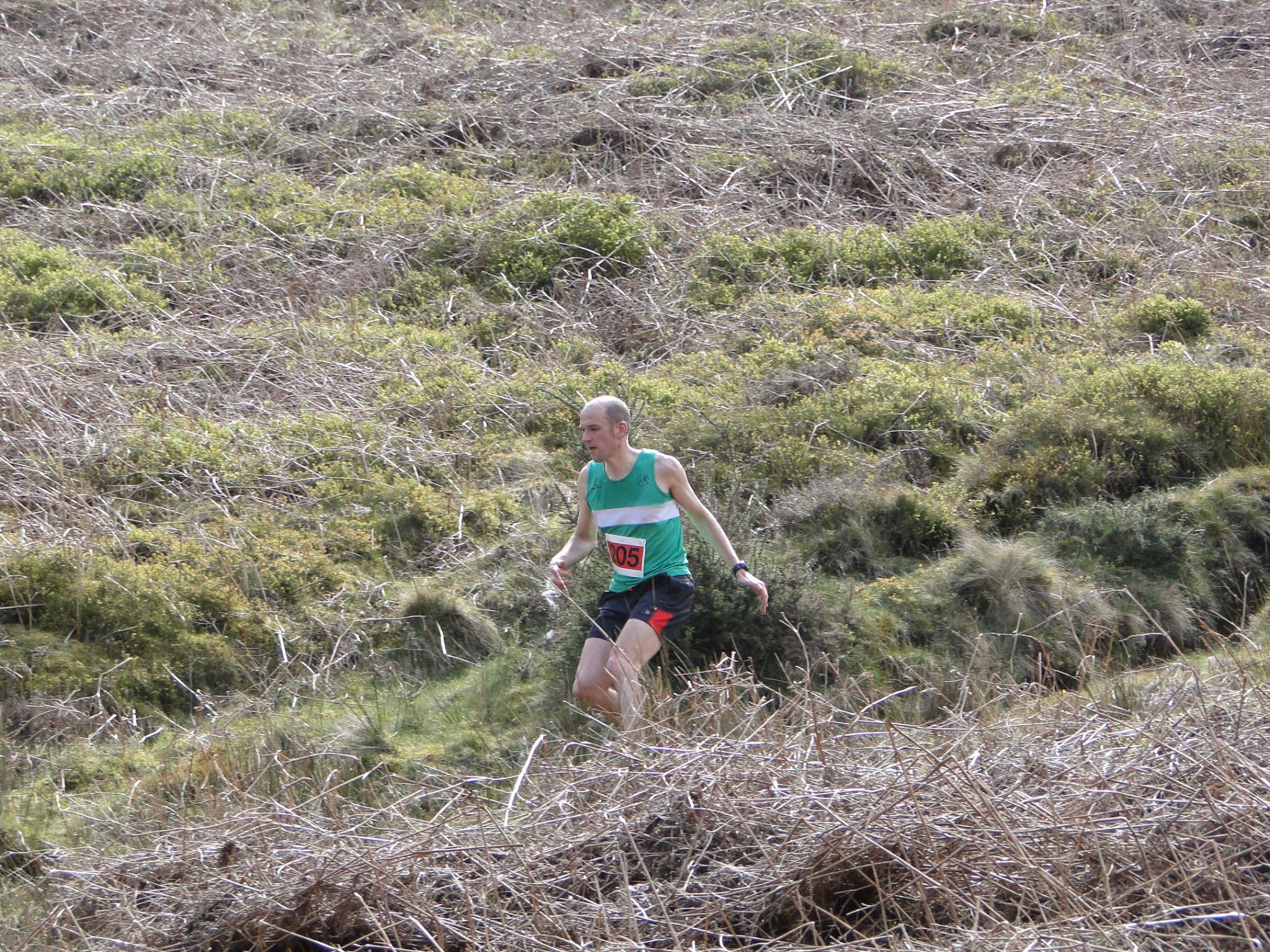 The start was on time at 2pm, with a relatively small field – maybe 30 or so. The first mile was an undulating rocky track, heading towards the big hills. I took it steady and slotted in about 5-6th position. The first two shot off ahead and were soon out of site. I was just hanging on to the 3rd and 4th place guys. Mile 2 saw the first big climb, followed by a lovely couple of miles on top of the hills. I was quite happy to keep the other runners just ahead of me, as the route was tricky to follow – just a few yellow painted arrows on the grass that could easily be missed. I managed to overtake the 4th runner on the first big descent. At the bottom we all stopped and head scratch moment, as the way on was not clear at all! Luckily, some friendly off road motor bikers pointed the direction that the other runners headed. (Very helpful – Don't know why they get such a bad rep!)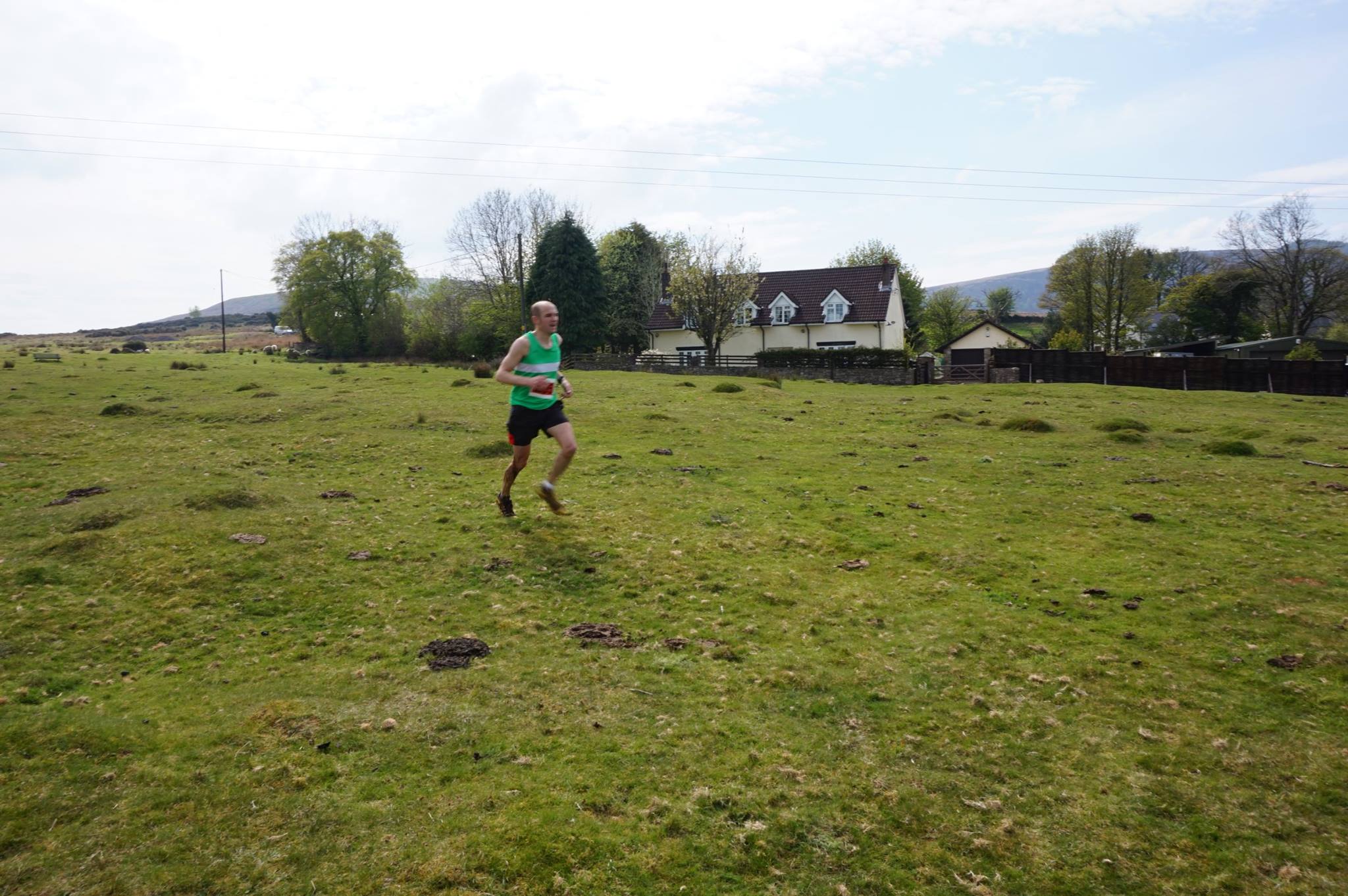 I managed to pull a slight lead over the other two up the lovely (but steep) stream valley climb – by my reckoning I was in 3rd place now. At the top there was a well-marked section over some open fell. I was quite relived, as I had no one to follow now. The markers posts stopped abruptly at the top of a very steep descent – couldn't see any markers, but there were a group of people in the distance valley below. I decided to head for them, in the hope they were marshals. Goods news was that they were and they had some water. Bad news was that they then directed me up the other side of the valley, with the vague instructions of 'head between the two trees, get to the top, then go to the pylon' – ok, simple enough.. I soon lost any sort of path, so ended up just bashing through bracken towards the top. Once at the top, I could see pylons to the left and right – a moment of hesitation, but right felt right! I felt a bit lonely for a few minutes, not at all convinced that I was on route, but finally I was relieved to see a yellow arrow on the grass and it was even pointing in the direction I was going!
The path went past the pylon, to where it was possible to see the finish line, about a mile away, down the mountain track. Quick check behind showed I had a decent lead, and I was confident I would not be caught on the final descent. All went smoothly, past the marshal I was chatting to on my earlier warm up recce – almost there! Then I had a complete brain fade, and chipped off the path too early – it must have only been about 500 metres from the end. I soon realised my mistake, and saw a path through some large gorse bushes, that seemed to head back the right way. I pushed through, but the gorse got higher and thicker, and my legs and arms got more a more sliced. Then the path abruptly stopped – dead end! I was surrounded by head high, spikey gorse.
Panicking, I turned around and retraced my footsteps, getting more cuts in the process. I got back to a path and tried to take the next 'obvious' cut through – no gorse, but this time I was up to my thighs in a bog! I managed to wade though and come out on a road – ran down the road a bit, then cut back on to the finish straight – no one else around, I must have lost at least 30 secs – Had I maintained my lead or had the other guys overtaken me?
I crossed the line, and could not see the others – very happy, reckoned I must have finished 3rd. After I caught my breath back, I checked with the timekeeper, and found out to my surprise I came in second. Very happy with that! It turned out the second placed man had taken a wrong turn, and added about 3 miles on to his run.
Overall an excellent race – tough climbs, beautiful views, wild open fells, navigation 'options' and super speedy descents. Organisers and runners laid back and friendly – This is what makes fell running great!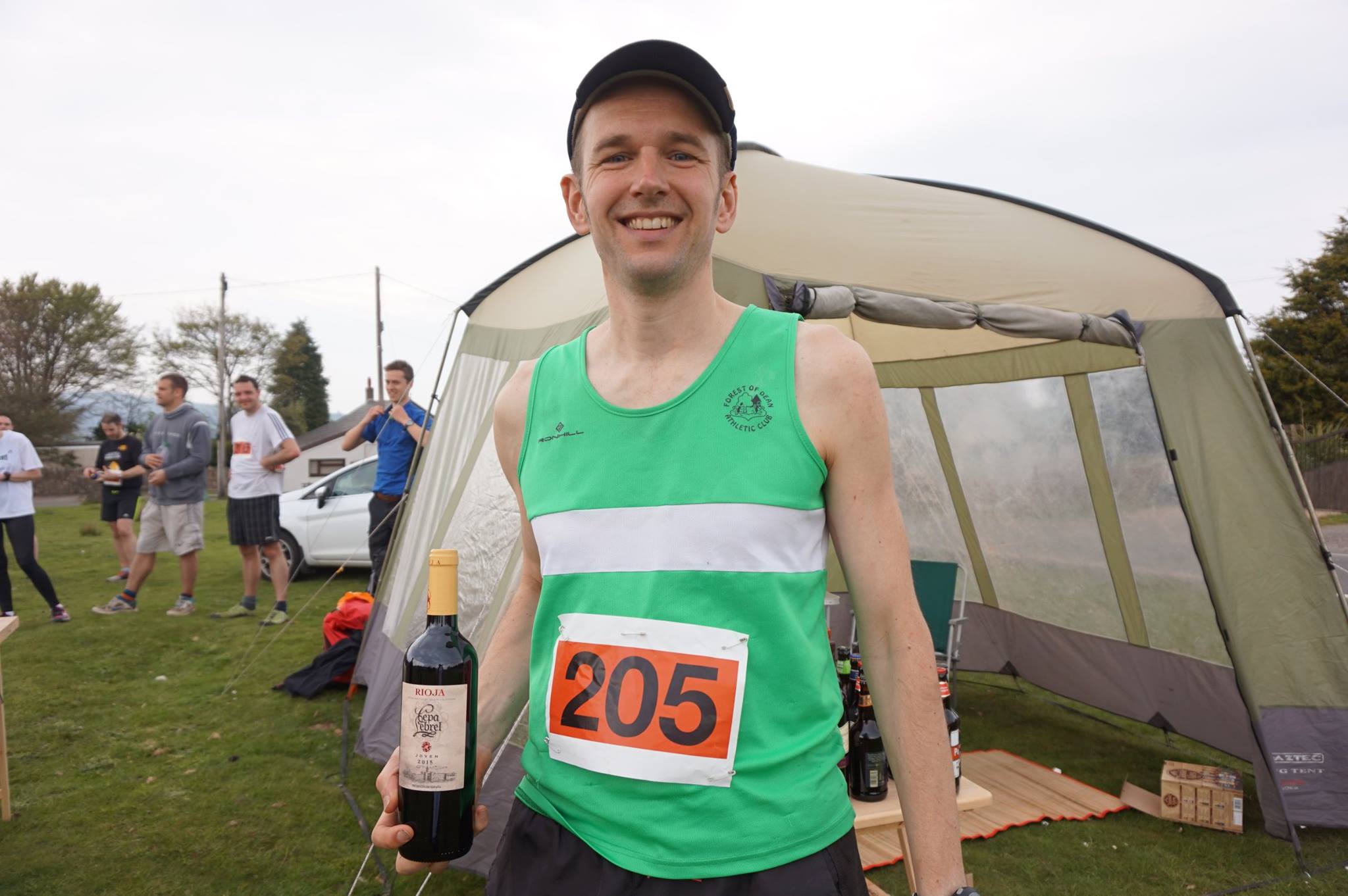 Time: 1:06:23       Garmin link