There was a swarm of green and white when Forest of Dean AC runners made up more than half of the field in Severn AC's Blaisdon 10k race, held on July 28th.  The race is an out & back road event, on lanes between Blaisdon, Flaxley & Gunns Mills.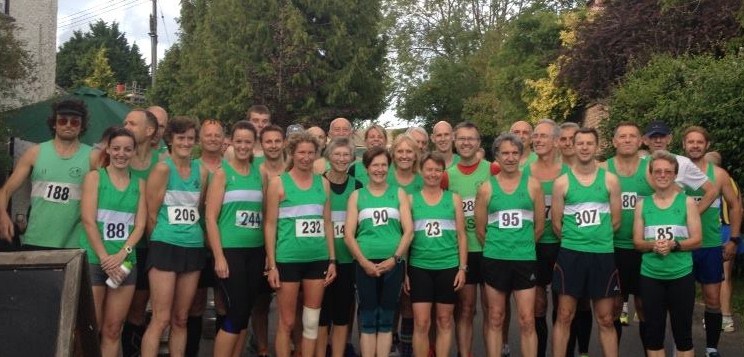 Peter Woodward was second overall in 36.52, 15s behind winner Oliver Starkey of Severn AC.  Cherry Fowler was first lady overall in 44.06.  Severn AC award packets of biscuits to winners and FODAC came away with a box full, with 5 men in the top 10; 4 ladies in the top five; both team prizes and many individual age category winners.
Times:  Dan Sandford 38.18; Marcus Bennetto 39.46; Dave Lowthian 40.19; Julian Boon 42.10; Greg Nash 42.43; Mark Channer 43.45; Andrew Kaye 44.19; Sherryl Hall 44.20; Alan Robertson 44.51; Chris Mooe 45.37; Fiona Turner 46.11; Ian Morgan 46.25; Helen Lipscombe 46.48; Sue Shergold 46.50; David Jenkins 47.09; Jason Ross-Collins 47.28; Margaret Powles 47.39; Michael Marks 48.01; Ivan Woodward 48.14; Graham James 48.16; Peter Covington-Jones 48.48; Roy King 49.53; Ian James 51.28; Rachel Nash 51.33; Jacqui Wynds 52.01; Graham Bennetto 52.14; Chris Hawkins 52.17; Kate Burke 53.06 and Bev James 57.51.