Forest of Dean AC's annual race was held on a warm, dry evening with groups of juniors, seniors and canis competing in various events.
In the U9s, 1st girl was Chloe Morgan, followed by Lauren Creed and Izzy Babij.  The boys finished in the order Harrison Coppen, Thomas Creed and Fletcher King.
In the U11s, Maddie Francis was 1st girl, followed by Tillie Westwood and Rosie Davis-Williams.  In the boys, Will Compton was 1st, followed by Cameron Francis and Owen Hall.
U13 girls was won by Lily Crawley, with Emma Williams 2nd and Ellie Hall 3rd.
Natalie Ashley-Towell was 1st U15 girl.  Max King was 1st boy, with Oliver Rennison 2nd.
Kim Mazzucca won the canis race, with Claire Clark second.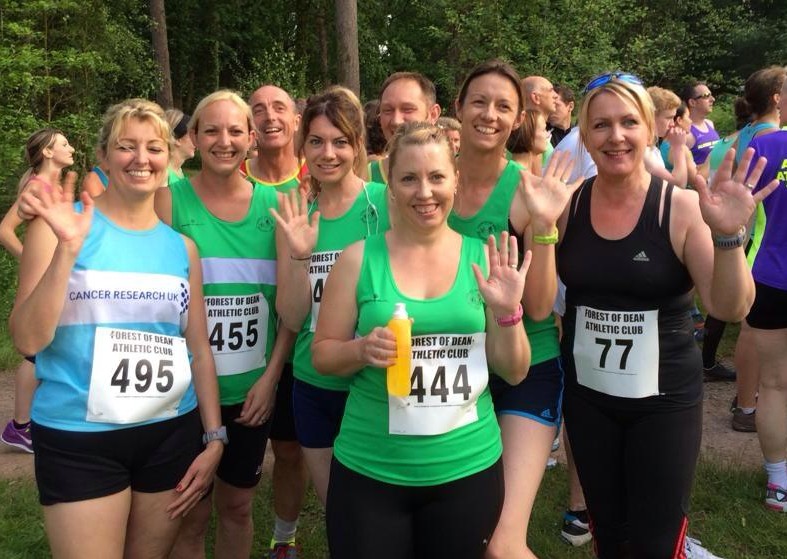 In the senior race, Peter Woodward was 1st man, followed by John Hamilton and Chris Penny.  In the women's race, Martha Hamilton was 1st, followed by Carmen Rodriquez and Valerie Hamilton, winning her family's 3rd prize of the night.  The category prizes went to John Russell MV40; Walter Leach MV50; Victoria Bentley (Angels) FV35; Lynne Park FV45 and Shirley Albrow FV55.