2988 runners completed the Admiral 2013 Swansea 10k, and 28 were from Forest of Dean AC.  This event has become the annual club coach outing and this year didn't have to suffer the wind and rain experienced in 2012.  The weather was dry, warm and a bit humid: conditions which suited some people but not all.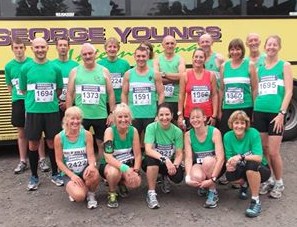 First Forest finisher was Leyton Fleet, 124th in 38:12, giving him a single additional point towards the Club Championship over Julian Boon, 156th in 39:11.  Third male home was Marcus Bennetto, showing improving form following injury, in 40:29.  First female was Jacqui Wynds in 50:16, followed by Jane Creed 51:30 and Shirley Albrow 52:02.  Other results:  Richard Peglar 42:16; Jim Storrar 42:45; Scott Berry 43:19; Richard Dennant 43:52; Alan Robertson 44:35; Nick Wellsted 45:54; Chris Moore 45:58; Brian Francis 46:18; Rob Freeman 46:42; Callum Francis 48:43; Graham James 50:01; Chris Hawkins 52:53; Ian James 60:21; Stef Francis 52:10; Karen Barnett 53:54; Anna Freeman 54:42; Angela Bowkett 58:58; Bev James 59:29; Wendy Lawrence 59:35; Vanessa Peglar 60:24; Mandy Weare 60:51 and Michelle Ward 61:51.
There was also a series of races for the juniors with Harrison Coppen winning the 1k race.