Without a Championship race to take part in, Forest of Dean AC runners were scattered across the country, taking part in several different events.  Furthest north, the exciting finish between Farah & Bekele in the Great North Run didn't feature Marcus Bennetto, who, following a series of injuries in 2013, finished in a creditable 1:42:21.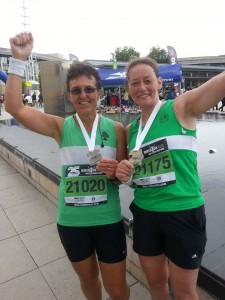 Nearer to home, Claire Morgan and Karen Barnett took part in the 25th Bristol Half Marathon.  Claire finished in 1:56:09 with Karen just behind in 1:56:34, knocking 12 minutes off her half marathon pb.  Runners in the new Cheltenham Half Marathon included Dave Jones, finishing 200th in 1:36:06; Chris Moore 1:40:11 and Alan Robertson 1:45:49.
Chepstow Harriers' St Arvans 10 saw 4 FoDAC runners complete 10 miles of trail and tarmac.  James Dobbing was 13th in 1:08:55, followed by Chris Perry 1:12:35; Mark Mathews 1:03:40 and Ivan Woodward 1:24:16.
Julian Boon completed his second marathon in two weeks, finishing the Farnham Pilgrim Marathon in 3:41:21, 16 minutes faster than 2012.