The final event of the 2013 season took place on 8th September.  In additon to many good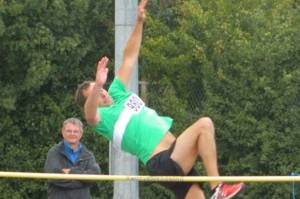 performances by the junior athletes, the seniors were also well represented.  Richard Peglar (right) threw himself into his role as T&F men's captain, clearing 1.30m in the high jump.  Peter Compton cleared 1.15m.  Angela Sonn ran the 100m in 16.10s and the 200m in 35.80s.  Sarah Rossiter jumped 4.59m in the long jump.  Helen Kearsey threw the discus 18.25m. and Sarah James  12.61m.  In the shot, Helen threw 6.19m and Sarah 5.48m.  Richard Peglar ran 1500m in 5:18:00 and in the hammer Daren Andrews threw 30.53m and Peter Compton 15.78m.
Overall. Forest of Dean AC were lying 6th after 3 rounds, with the final results due at the end of this week.