'My First Fell Race' – Report by Kate Burke:
Well what can I say, after getting talked into tail running at FOD parkrun this morning, I then set off with 5 other fellow FODAC members and of course 1 Chepstow Harrier to take part in my first triple fell race 15 miles, Llanbedr to Blaenavon. Just 3 simple hills to conquer: Crug Mawr, Sugar loaf and the deadly Blorenge.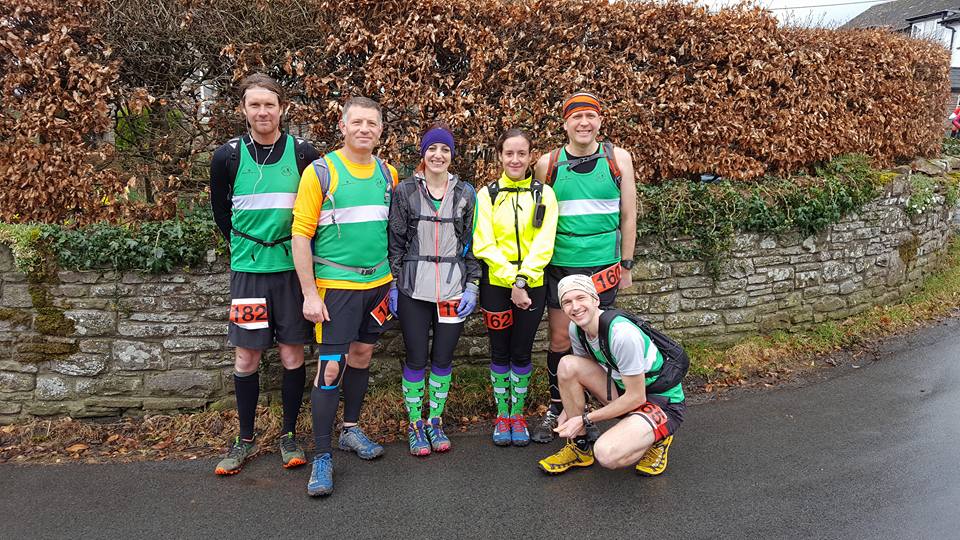 After starting off with 87 other hopefulls including my running partner Gemma Hewitt, all was going well. The guys all shot off well in advance but hey, today was all about endurance running for our up and coming marathons, not a PB or medal, although we have decided now we deserve one for 'best new comers' to the event' as everyone else seemed to look very pro.
Climb 1, not too bad. I seemed to be queen of the hill with Gemma struggling a bit, which in all honesty relaxed me into the event. At the top great views, weather couldn't be better and I actually recognised where we were due to tagging along to a recce of the route early in March with Sue Shergold, David Jenkins, leading the way. Once up we found check point 1. Andy Creber ticked off our numbers and offered advice for the desent down. "Follow me girls and head for the wall" That's where Gemma came into her own, speeding on in advance! Following Andy, sounded a good plan apart from the fact we lost him straight away due to his speed and knowledge of the hills and saw no wall. Once back on track, we came to check Point 2 and annoying saw Andy again this time with a photographer.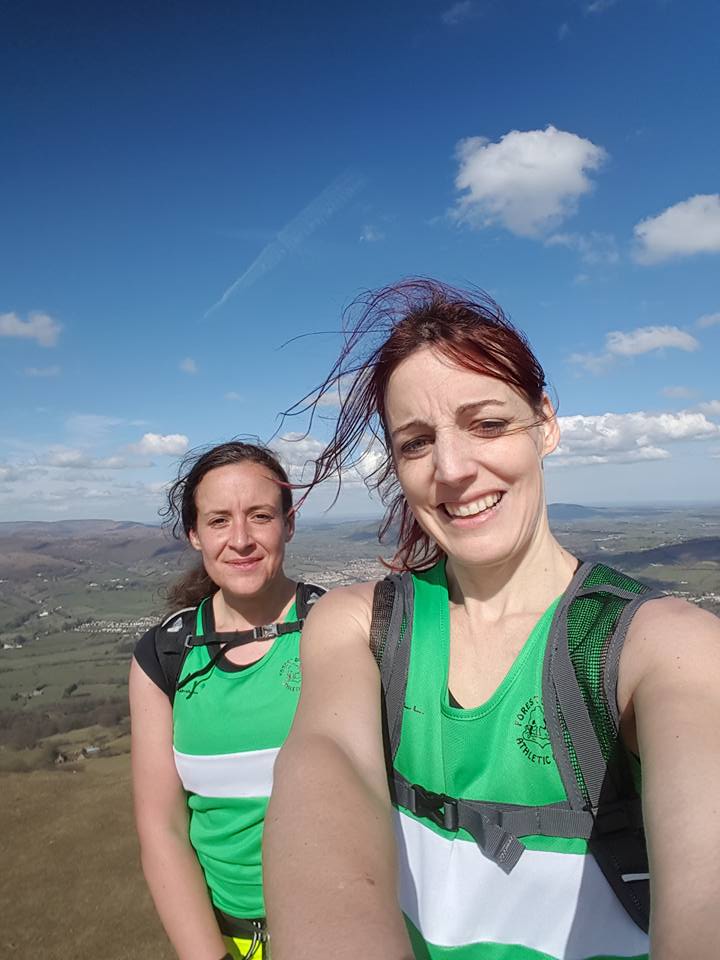 Hill 2 – The Sugarloaf, this was steeper than I remembered on our recce, and the wind was as noticeable. So many people had chosen today to also take in the amazing sites it was quite crowded on top. However, with no time to spare taking in the amazing scenery, once again we headed back down, Gemma leading the way. Check Points 3 and 4 soon ticked off, no Andy or fellow FOD members in site. Check Point 5 was the one to head for as the cut off for continuing was 3hrs 15. To our relief we managed to get here with 30 minutes to spare, took a quick drink and some jelly babies and headed on our merry way, over taking two other racers, Now time and position was a factor!
(what I forgot to mention earlier was we had been last).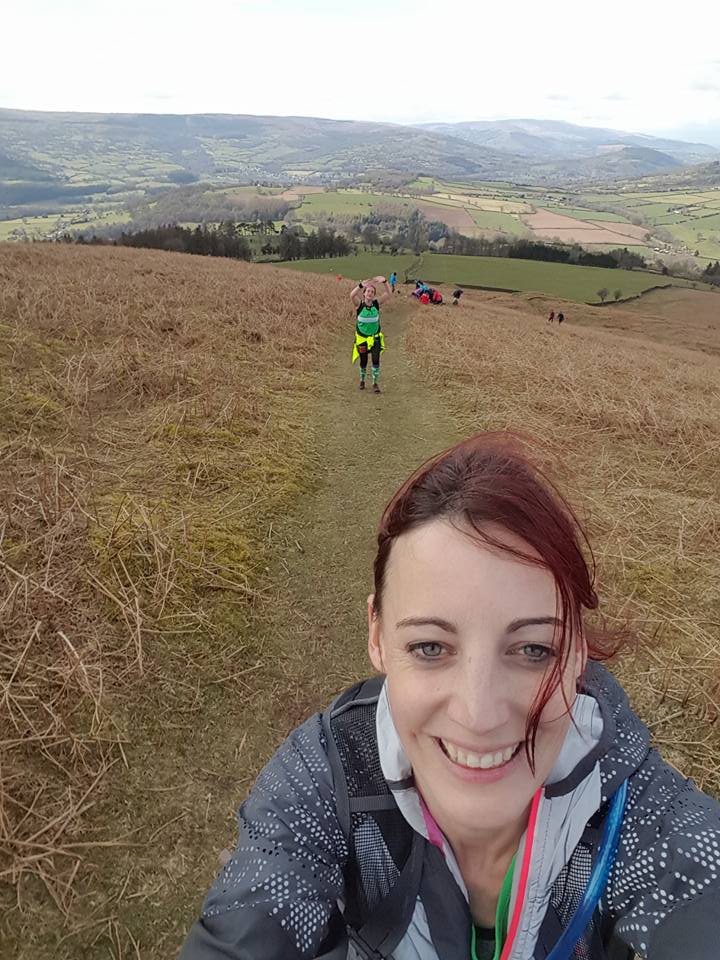 Hill 3, The Blorenge! Well I now know why Glen had kept very quiet about this part, as this was all unknown to me. Steep and never ending is an understatement. All I could do was look at my feet and keep focusing on the footsteps runners ahead of me had kindly left. No energy, not good with heights all factors starting to weigh me down. Kill me now was a saying I kept saying, however no one was close enough to take notice. Eventually the top was in sight, 2 marshals kept shouting encouragement until at last the clumps of grass I was pulling on with dear life ended and flattened out. Thank God! To make my day we were asked "do either of you know Glen Meek" I replied yes, to which I was told he said to say "he loves you and also will buy you a new car if you finish." the second part I knew they had made up, but this all gave me the needed energy to continue again. Gemma once up found her energy again and once again speed off on the flat encouraging me once again on the decent.
At the next checkpoints we came across Andy again. It was starting to annoy me how he always beat us and looked so well rested. That was until he nearly ran me over in his car as I fell off the track onto the road. All had become clear!
Again at 13 miles we saw him again. This time his good advice on where not to go helped us make up good time and soon we were on the final roads into Blaenavon. Two young kids shot past us on their scooters, how I wanted to ask to borrow one but speed was on their side so they soon shot off ahead before I could ask. The last few kilometres were in grasp, the two runners behind us were also right on our tail. Left, left again and the final corner was in sight. Coming around the corner, we were greated by huge shouts of encouragement by Glen Meek, Dan Sanford, Michael Marks, and David Jenkins. We had survived and finished, Plus we were not last! With a final time of 4hours 11minutes 47 seconds, 1372 metres climbed, 15.6 miles covered the London marathon should now be a piece of cake! Well that's what I'm telling myself anyway – no HILLS!

Thank you to my fellow FODAC for the great company and encouragement. Thank you Gemma Hewitt, an amazing running partner, whom without I would have not had such fun. Thank you to all the amazing marshals for your comments and support, yes even yours Andy Creber. And finally thank you Glen for without your nagging, I would never have entered! What about next year well….. you must be having a laugh x    – Kate
Full Forest Results:
| | | |
| --- | --- | --- |
| Pos | time | Name |
| 8 | 2.37.45 | DAN SANDFORD |
| 14 | 2.43.15 | HELEN BROWN |
| 26 | 2.56.04 | ANDY HORLICK |
| 71 | 3.42.24 | MICHAEL MARKS |
| 72 | 3.42.24 | DAVID JENKINS |
| 84 | 4.11.47 | KATE BURKE |
| 85 | 4.11.47 | GEMMA HEWITT |