Bristol and Bath Marathon
The Sanlam Bristol + Bath Marathon ran for the first time on Sunday taking runners from Bristol, 26.2 Miles to the elegant Roman Spa city of Bath.
A good turnout for this event from FODAC with an outstanding performance from Frank Williams in his first marathon
Frank Williams first marathon in 3:25:52, Sue Shergold 3:53:30, Helen Lipscomb 3:54:01, Kate Burke 4:25:32, Bronwen Davies 4:25:24, Debbie White 5:22:00
Great South Run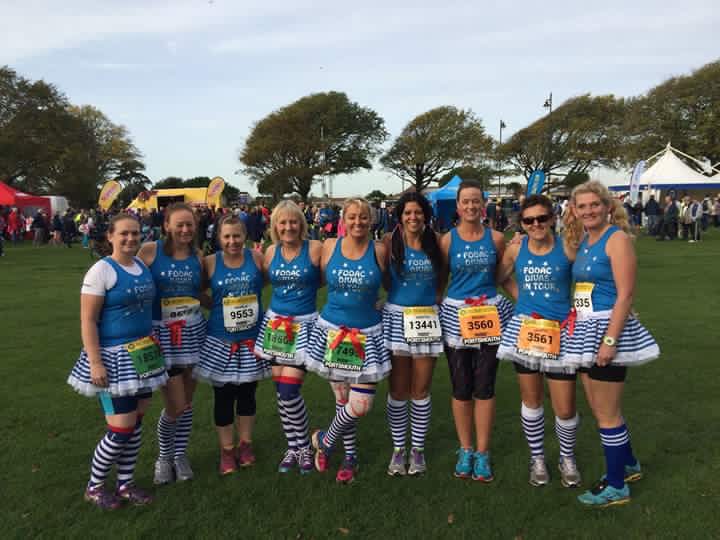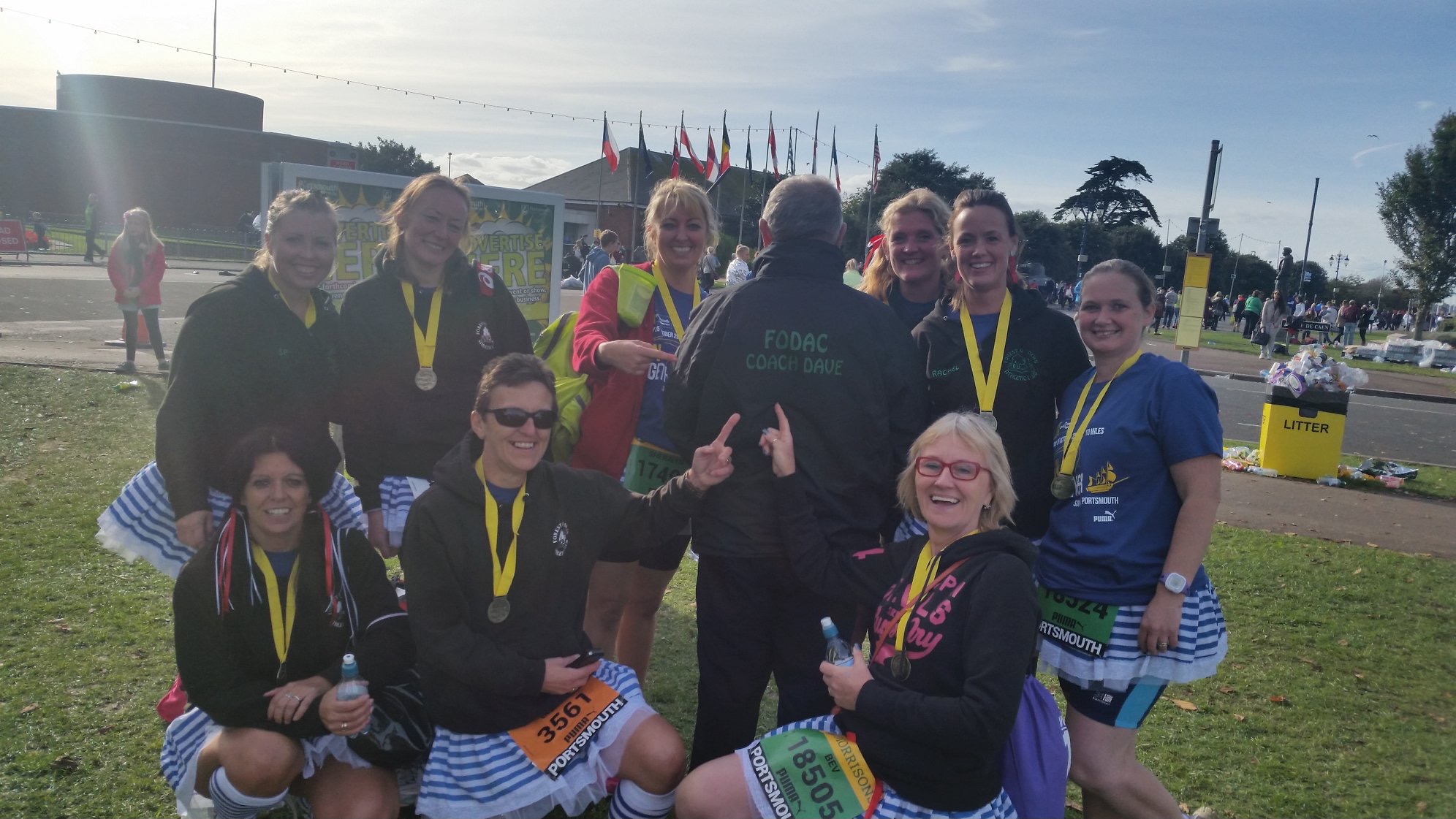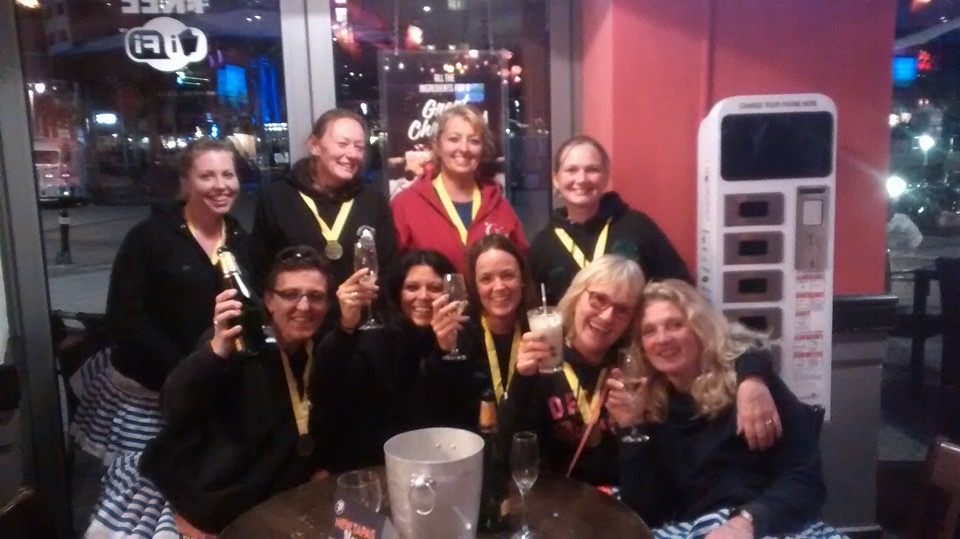 Described on their website as the world's leading 10 mile running event the 24th Great South Run took place in Portsmouth on Sunday.
Starting and finishing in Southsea, the fast and flat course takes you through Old Portsmouth, home of the Portsmouth Cathedral, before entering the Historic Dockyard. Here you're granted permission to run past the Royal Navy's current naval ships, and some of the most famous in the world – including HMS Victory, HMS Warrior and the Mary Rose museum.
After exiting the Dockyard and reaching the halfway point on Winston Churchill Avenue, the course then makes its way back to complete the final two miles on the scenic seafront.
This was  a big outing for the FODAC Divas, with photos suggesting a heavy emphasis on the "social" aspect of this run. It's not quite clear whether on this occasion their efforts were fuelled more by alcohol than carbs.
A great turnout for FODAC and a good time had by all.
Rachel Nash 1:23:56,  Claire Morgan 1:29:31, Vanessa Pegler-Marfell 1:36:49 Karen Barnett 1:38:35, Bev James 1:38:53, Sharla Fleet 1:41:44, Job Babij 1:41:45,  Sheralyn Turner 1:55:25, Claire Lavender 1:59:31
Stroud Half Marathon
Victoria Baker & Andrew Kaye both managed new PBs finishing in 1:36:55 & 1:36:54 respectively
Mourne Skyline
Helen Brown travelled to Northern Ireland for this tough 35K mountain race in the Sky Running Series. She finished in 15th position of 163 & 2nd Female with a time of 4:42:12
Snowdonia Marathon
Last – but not least – for the weekend performances was our own Forrest Jooligan (Julian Boon) who competed in probably one of the toughest marathons in the country the Snowdonia Marathon
The inaugural Snowdonia Marathon was held in 1982, and was conceived as a dramatic alternative to the numerous city and town races becoming so popular. The demanding and spectacular route, encircling Snowdon, Wales' and England's highest peak, has given the event a unique place in the annual marathon calendar ever since.
Jools completed the course in a time of 3:28:00 finishing 159th of 1845 finishers and 25th in his age category.
"The weather was grim: cold & very wet. Not quite as bad as Rhayader 2013 but after warming on the first climb I was cold again by the time we'd climbed out of Beddgelert however I was flying: Went through halfway in 1:35:10, 20 miles in 2:29:48 and 23 miles in 2:55:20 however . . From mile 22 it climbs 236m in 2 miles at an average of 7%. I ran it all but reached the top feeling sick. Mile 24-25 was on a stony track which had streams criss-crossing through it & down it & the Boosts were slipping all over the place. At least the weather had cleared by then so the views over Llanberis were stunning. There's a slight drop then another brief climb too before the descent into Llanberis starts at Mile 25 on a grassy 15% slope awash with flowing water which I picked my way down gingerly before hitting the 21% tarmac with about a K to go. I lost about 5-6 minutes & 14 places between Mile 23 & the finish due to a combination of nausea, surface & footwear. My final 5K was 33 minutes!!!"