Sodbury Slog
Always a popular race and probably the initial "mud run" , this attracted a number of FODAC runners.  The route is varied.   Starting from Chipping Sodbury School, running along the wide High Street and onto Sodbury Common.  Here's where the mud starts.  The common is very marshy even in summer, and becomes very wet and boggy in November making the going especially tough.
Through the hamlet of Little Sodbury End into Tungrove Farm. A few watery excursions later and you are climbing towards the Cotswold Way, into the tree-lined drive of Little Sodbury Manor, running past the Manor House then up through the woods on the Cotswold Way, across the Roman encampment at Old Sodbury, following the Cotswold Way down to Hardwoodgate Farm.
Strategically placed bales of hay provide ideal obstacles where gates would normally grace the passage. A short road run takes runners back to the school in a distance of 9 country miles.  All of this add to the spectacular scenery on the run and make it unique.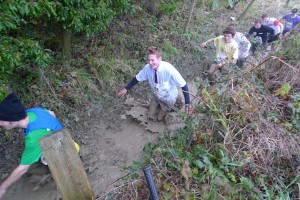 First home was John Ashcroft of University Of Bristol Athletics – 1.04.44.  Best FODAC was John Russell in 1.13.25.  Other FODAC results: Richard Powles – 1.18.02; Robert Freeman – 1.24.01; Tony Pownall – 1.42.44; Stefanie Francis – 1.46.54; Karen Barnett – 1.59.56; Claire Morgan – 2.00.35; Jo Babij – 2.01.31 and Vanessa Pegler – 2.17.30.
GWENT LEAGUE CROSS COUNTRY – NOV 9TH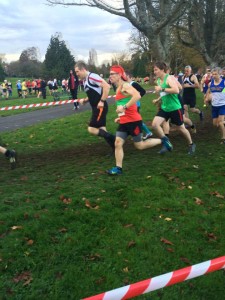 Good effort from the FoDAC men in the second race of the Gwent League at Llandaff Fields, Cardiff. First home was Marcus Bennetto in 129th place, in a shade under 40 minutes for the 9.7km course. He was closely followed by James Dobbing (150th) & Dave Lowthian (168th), then 3-4 minutes later Julian Boon & Scott Berry (275th) with super-vet Alan Robertson (334th) bringing up the rear.