Kate Frost completed her first marathon finishing in 4h 24min in Chester.  Matt Bond also completed this race in 3:26:52.
In the Badminton Horseless Trails 9 mile race, James Dobbing was 4th in 61.49, followed by Mark Mathews 64.34; Mark Blake 67.18; Martin Heath 72.30 and Graham James 80.25.  The Team was 4th overall.  Jo Babij finished the 5 mile race in 50.07 and Chris Hawkins and Maya in 40.04..
Chris Moore completed the Cricklade Half Marathon in 1.42.17 and Alan Robertson in 1.45.12.
10 runners from Forest of Dean AC took part in the Cardiff Half Marathon.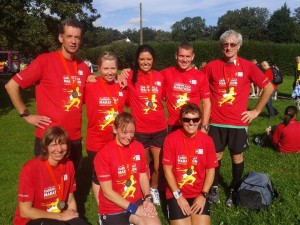 The first three of these finished within 30s of each other: Leyton Fleet in 1.29.47 John Russell in 1.29.54 and Spike Powles in 1.30.11.  The first lady finisher was Karen Barnett in 1.58.08, followed by Stef Francis in 2.01.24.  Other runners were Brian Francis 1.42.19; Roger Morgan 1.55.02; Claire Morgan 2.05.25; Sharla Fleet 2.10.50 and Vanessa Pegler 2.11.25.