Great Oaks Yorkley Gallop.
Sunday 1st October 2017
This will be the second run on the new course. Lots of positive comments last year – I think you liked the mud and hills!
Prices: 6 mile affiliated runner £8.00 6 mile unaffiliated runner £10.00
3.3 mile affiliated runner £6.00 3.3 mile unaffiliated runner £8.00
Also, canicross options available!
Entry on the day: £3 extra, if not sold out.
Main Race: 6 Mile Off Road and trail race in support of our local hospice. 50% of the proceeds will be donated. Lots of muddy paths – Trail / Grippy shoes recommended…
'Beginner' 3.3 mile – Great for those who want to try a hilly and muddy race.
2.5K Junior race.
Runners and cani: 10am start. Juniors 10.15am
Location: COMMUNITY CENTRE YORKLEY, Bailey Hill, Yorkley, Lydney, GL15 4RS
Prizes for 1st/2nd/3rd M & F. Medals for all!
Categories M & F 1st 40/50/60/70
Toilets/Parking and bag drop at village hall. Tea and cake at the finish.
Results 2016: yorkley-gallop-6 mile Runners 6 mile canicross: yorkley-gallop-c6 3.3 Mile Runners: yorkley-gallop-r3 3.3 Mile Canicross: yorkley-gallop-c3 Juniors: fodac-junior-results-yorkley-gallop-2016
Briefing Notes – Please read if entering the race!
UKA Licence: 2017-27504. Risk Assessment
For latest details see our Facebook page: FB 2017 event link
2016 race photos / comments : Facebook event link 2016
Course Map: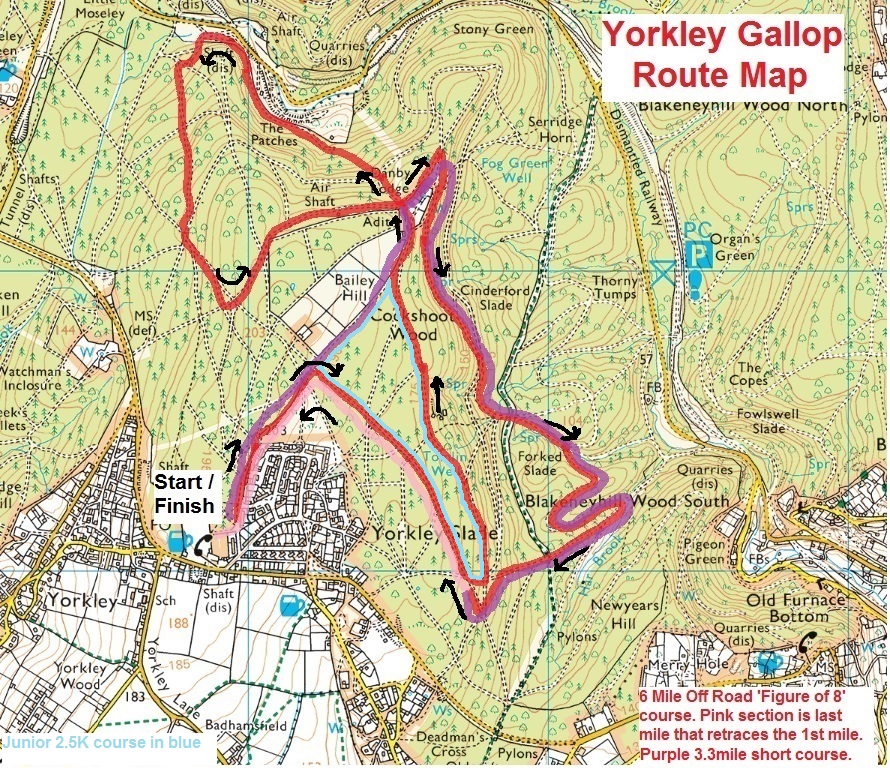 Sponsored by: